For the new Legacy 450/500 program, Embraer started from scratch with a brand new design, introduced at first during the EBACE convention in Geneva, back in 2008.
This mid-size twin-engine business jet is equipped with high technological gadgets like "fly-by-wire" flight controls, an innovative side-stick control and a synthetic vision system with flight path stability, ensuring the smoothest flight possible. Hereby, the Legacy joins the club of the high-end long range Falcon 7X from Dassault and the G650 from Gulfstream, being the only ones to be equipped with this technology so far.
The Legacy 500 surpasses any definition of a midsize jet. The aircraft excels by its most quiet and largest cabin in its class measuring 1.83 m high, 2.08 m wide and 7.32 m long. The Legacy can accommodate up to 9 passengers, while providing 4 fully berthable club seats that can be reclined to create a bed.
The cabin is equipped with the Honeywell Ovation cabin management system, which provides full control of the climate system via individual touchscreen panels, ensuring a cabin pressure altitude of only 5.800 ft at its operational ceiling of 45.000ft. For sure one of the lowest cabin altitudes in the industry. The lower the cabin altitude, the less tired you will be after your flight.
In-flight entertainment is ensured via iPhone/iPad applications, WiFi connectivity, Sat phone and a CD/DVD/MP3/Blu-ray player. The fully equipped galley offers a microwave, a mini-bar, a water boiler, a sink, and a Nespresso Coffee machine. A second sink and extra storage room can be found in the spacious lavatory in the back.

Download specifications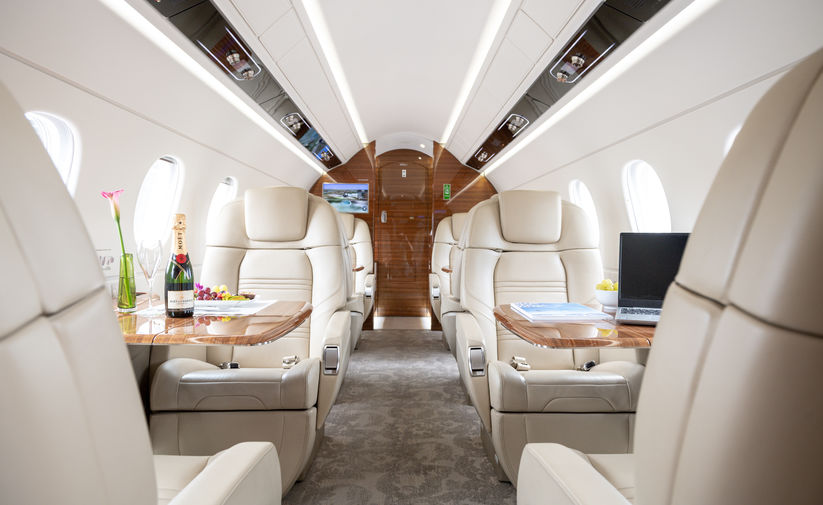 Special features
Mini-bar
Microwave/oven
Boiler
Toilet
In-flight info
In-flight entertainment
Wifi
Phone