The Dassault Falcon 7X is a revolutionary tri-jet aircraft within business aviation. It has a fully digital operating system and features several other technological enhancements derived from Dassaults' 30 years military experience (with the Rafale and Mirage 2000 programs).
The Falcon 7X is pure elegance and efficiency, while offering excellent flight performances. This aircraft is one of the most advanced business aircraft ever made. Despite reaching speeds of up to 0.90 Mach over shorter distances, its fuel efficiency – up to 30% less than other jets in the same class – allows it to cover a maximum intercontinental distance of 5,950 NM (11,000 km).
It will allow you to fly comfortably non-stop from London to New York or from Paris to Tokyo.
The aircraft is able to land at lower speeds, compared to its direct competitors, allowing operations from short runways in hot weather conditions at high altitudes. Furthermore, there is the "steep approach" capability allowing the Falcon 7X to land at airports such as London City (UK).
The 7X meets the highest demanding noise standards and is therefore more than welcome at airports such as Nice and Cannes (FRA). It allows relax travelling in a spacious and extremely comfortable cabin, divided into several compartments, also featuring a fully equipped kitchen and even a bathroom.
The climate control maintains the desired temperature and limits the cabin pressure to 3950 ft at an altitude of 41000 ft. Impressive figures, because the lower the cabin pressure, the less tired you feel upon arrival. Large windows and acoustic technology provide a bright and peaceful environment. This luxury jet serves perfectly the needs for those looking at productive business - or relaxed family trips.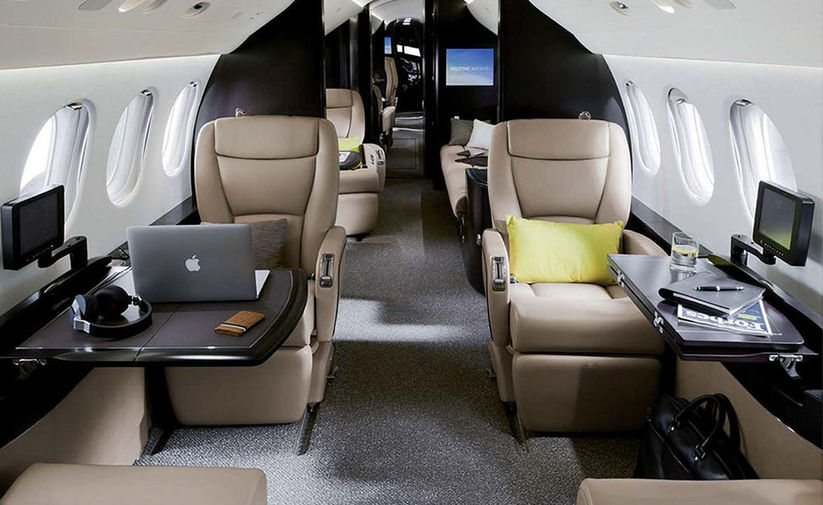 Special features
Mini-bar
Espresso machine
Microwave/oven
Boiler
Toilet
In-flight info
In-flight entertainment
Wifi
Phone