Download Annex 1 | Carrier Liability Notice to Passengers
Download Annex 2 | Dangerous Goods and Security Prohibited Goods
Version July 31, 2022
Passenger name conformity check
Belgian law requires all air operators to perform a conformity check between the name in our booking systems and prepared passenger manifest for the flight and the name on the passenger's identity card or passport. Conformity checks will be performed on all ASL operated flights to and from Belgium, also on intra-Schengen flights. All guests need to be in possession of an identity card or passport when boarding, including children and infants.
You will only be accepted to board your flight if the names on our operational documents (General Declarations/Passenger Manifests) and your identity card or passport match. Therefore, it is important that your official name is mentioned in your reservation. In case your name or the name of other passengers is misspelled, please don't hesitate to contact us via BE +32 (0) 11 29 50 16, NL +31 (0) 20 405 66 00 or via sales@aslgroup.eu
Travel visa
Depending on your destination, a travel visa may be required to enter the country in addition to a valid passport. ASL may check for a valid visa before allowing passengers to board a flight. Immigration officers in certain countries will deny entry to travelers who do not have a valid travel visa. Contact our sales team for more details or for assistance regarding Travel Visa.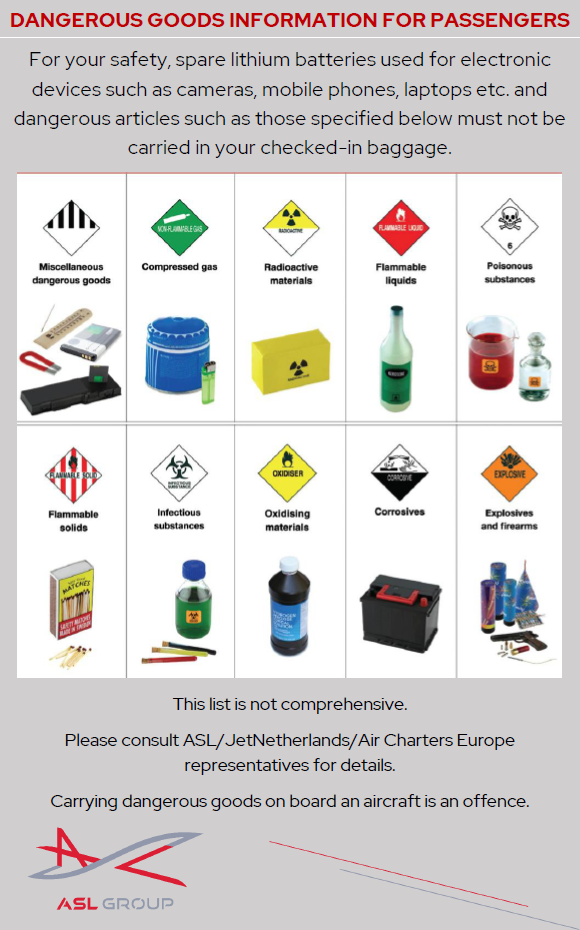 Dangerous goods, prohibited and restricted articles
Some items may endanger the safety of an aircraft or persons on board it. That is why transporting them as hand or checked baggage may be prohibited or restricted. In some cases, a prior approval is needed from the airline. Please read this information carefully and don't hesitate to contact us via sales@aslgroup.eu or info@jetnetherlands.com
Portable electronic devices containing lithium batteries such as laptops, mobile phones, tablets, electronic cigarettes should be carried in the passenger cabin, to enable the crew to react rapidly in case an incident involving such a PED occurs. Large PED should be carried in the passenger cabin whenever possible. In case large PED cannot be carried in the passenger cabin due to their size, and therefore have to be carried in checked baggage, they must be :
Completely switched off and effectively protected from accidental activation. To ensure the device is never powered on during its transport, any application, alarm or pre-set configuration that may activate it shall be deactivated;
Protected from the risk of accidental damage by applying suitable packaging or casing or by being placed in a rigid bag protected by adequate cushioning (e.g. clothing);
Not carried in the same baggage together with flammable material (e.g. perfumes, aerosols, etc.);
For passengers travelling with smart baggage (devices including integrated lithium batteries, motors, power banks, RFID's, Wi-Fi technology, electronic bag tags, etc.): remove spare lithium batteries and/or power banks before check-in and place them in your carry-on. Tracking systems inside the smart luggage must be designed with a minimum of 2 independent means to turn off completely, turn off cellular or mobile functions, or a combination of both when airborn. Passive RFID's inside the smart luggage must comply with IATA RP1740C.
---
More information on lithium batteries.
More information on Dangerous Goods.
---
Prohibited articles
Items not permitted in hand baggage and checked baggage
Self-balancing devices: due to security restrictions and regulations we do not accept battery powered vehicles (bicycles, hooverboards, segways) as normal sports equipment. Battery powered vehicles can be transported as cargo.
Oxidising materials: E.g. bleach, bleaching powder and peroxides.
Corrosives: E.g. acids, alkalis, rust preventing or removing compounds, sulphur dioxide solution, chemical kits and mercury.
Infectious substances: E.g. bacteria and virus cultures.
Explosives: E.g. fireworks, flares.
Magnetized materials: Strongly magnetic materials.
Flammable products: E.g. flammable liquids such as lighter fuel, paint, varnish, cleaning agents and flammable solids, as matches, charcoal briquettes, and any other ignitable article.
Toxic substances: E.g. arsenic, cyanide, insecticides, pesticides/weed killer and other types of poisonous or toxic substances.
Items not permitted in checked baggage
Electronic cigarettes: electronic smoking devices must be packed in your hand baggage. They are not allowed in your checked baggage. Although e-smokers are allowed on board, the use of any smoking device is still prohibited at all times.
Spare lithium batteries and battery power pack: spare lithium batteries and battery power pack are not accepted in check baggage. Spare batteries and power banks must be removed before check-in and are only allowed in cabin.
Items not permitted in hand baggage
Fake weapons, pointy, sharp and blunt objects: items that may endanger the safety of passengers, the crew or that may damage the aircraft are not permitted as hand baggage. Examples are fake weapons (or anything that can be used a weapon), pointy and sharp objects, and blunt objects.